I joined a cohort of multidisciplinary students during the eight week long, Summer Institute in the Arts and Humanities at the University of Washington. We were each tasked with creating an alternative world through research, making, and writing. Through these world building practices I questioned the ways in which humans and nonhumans engage with one another. I considered what possibilities there could be for collaboration amongst a variety of beings and what the consequences of these interactions might be. 
Audrey Desjardins, Ph.D. | Interaction Design Researcher and Educator
The Mary Gates Endowment For Students, Simpson Center for the Humanities, and The University of Washington Undergraduate Research Program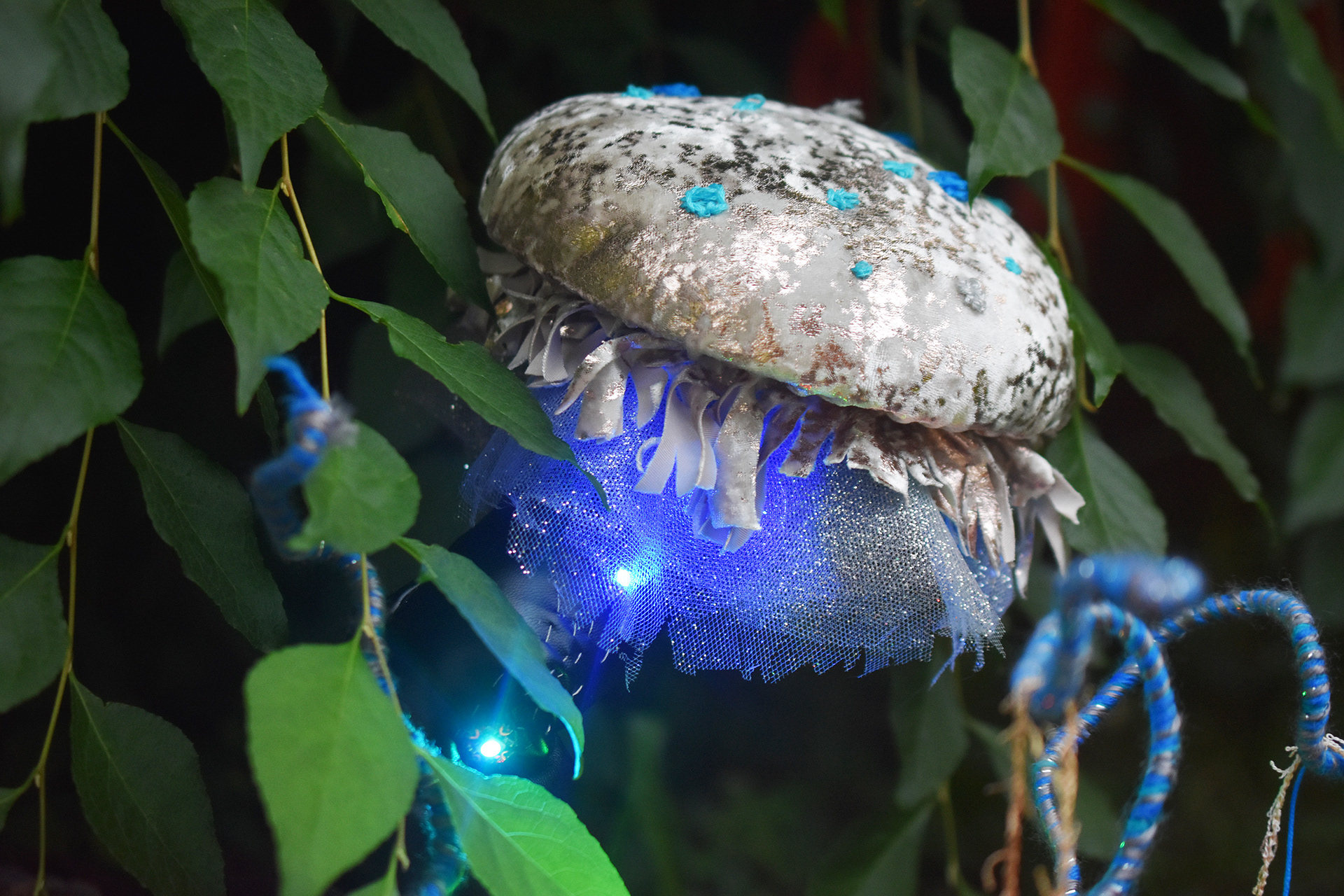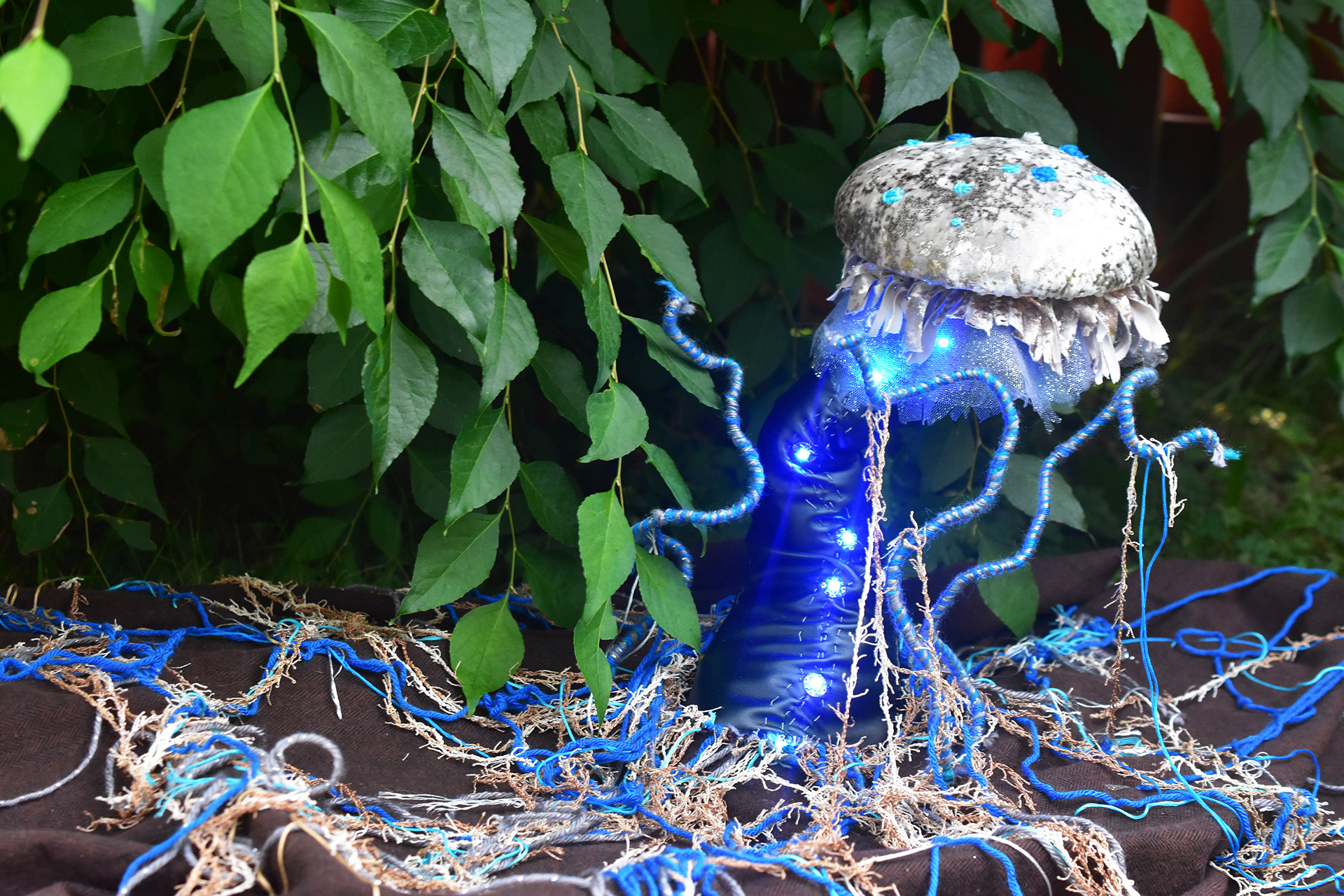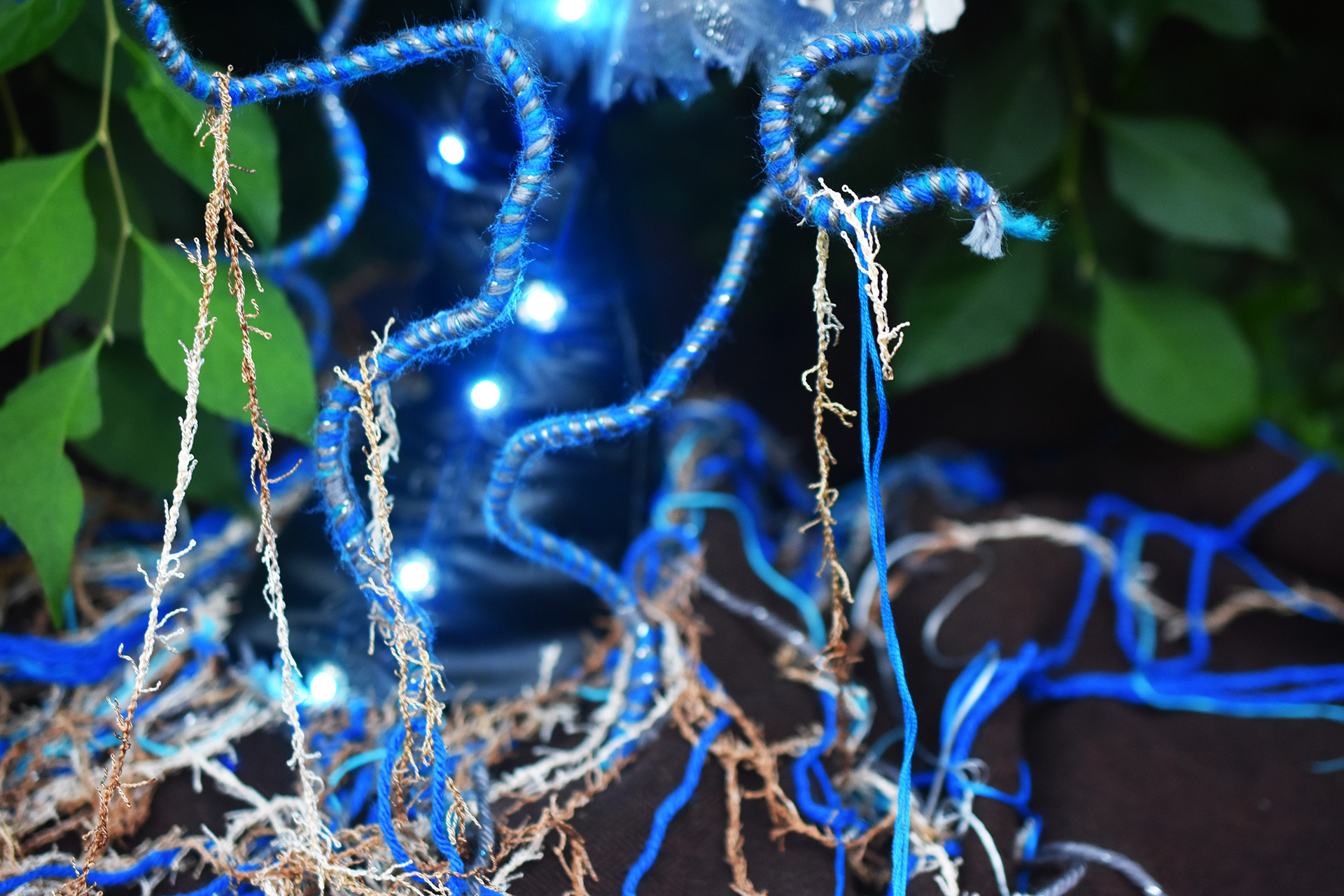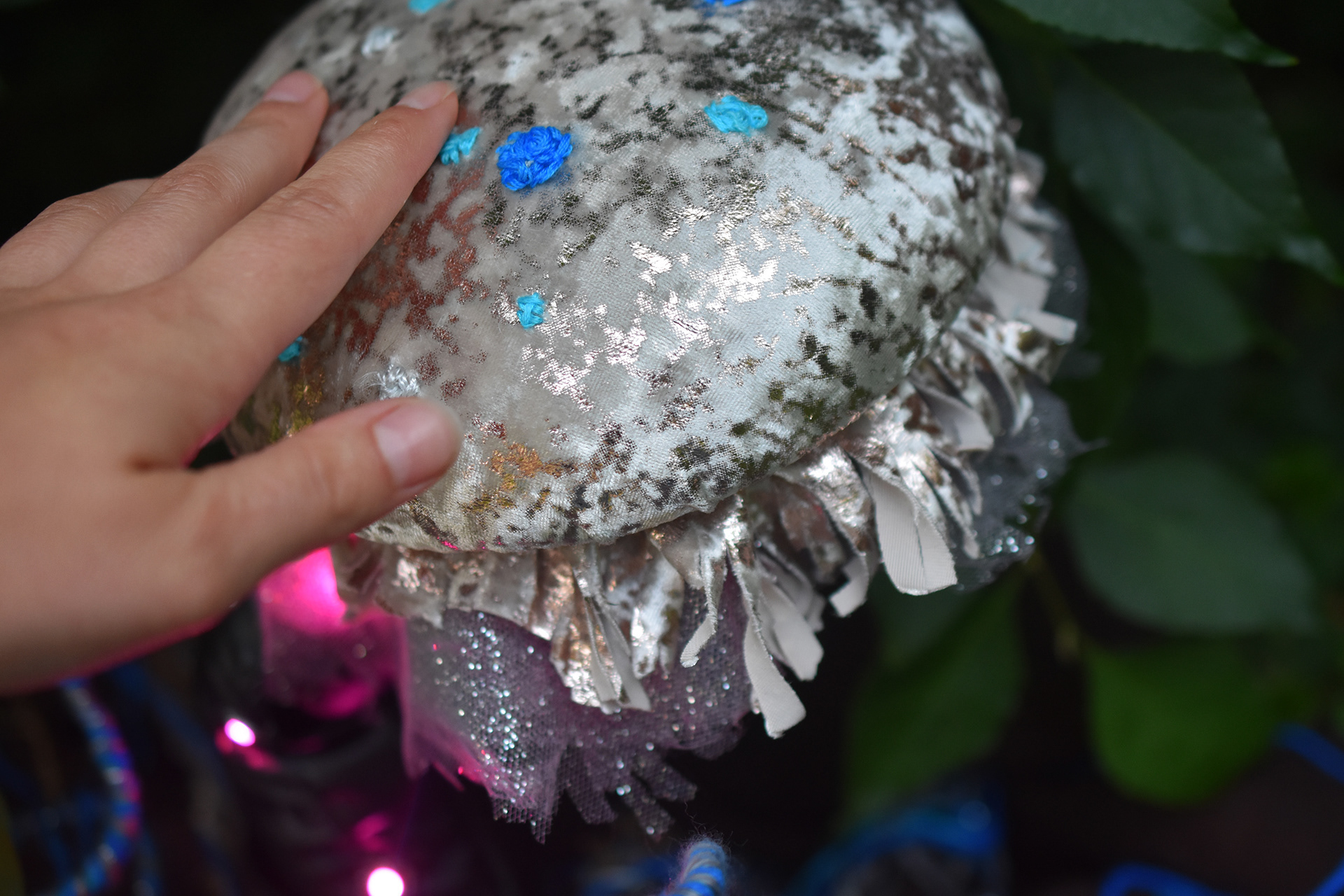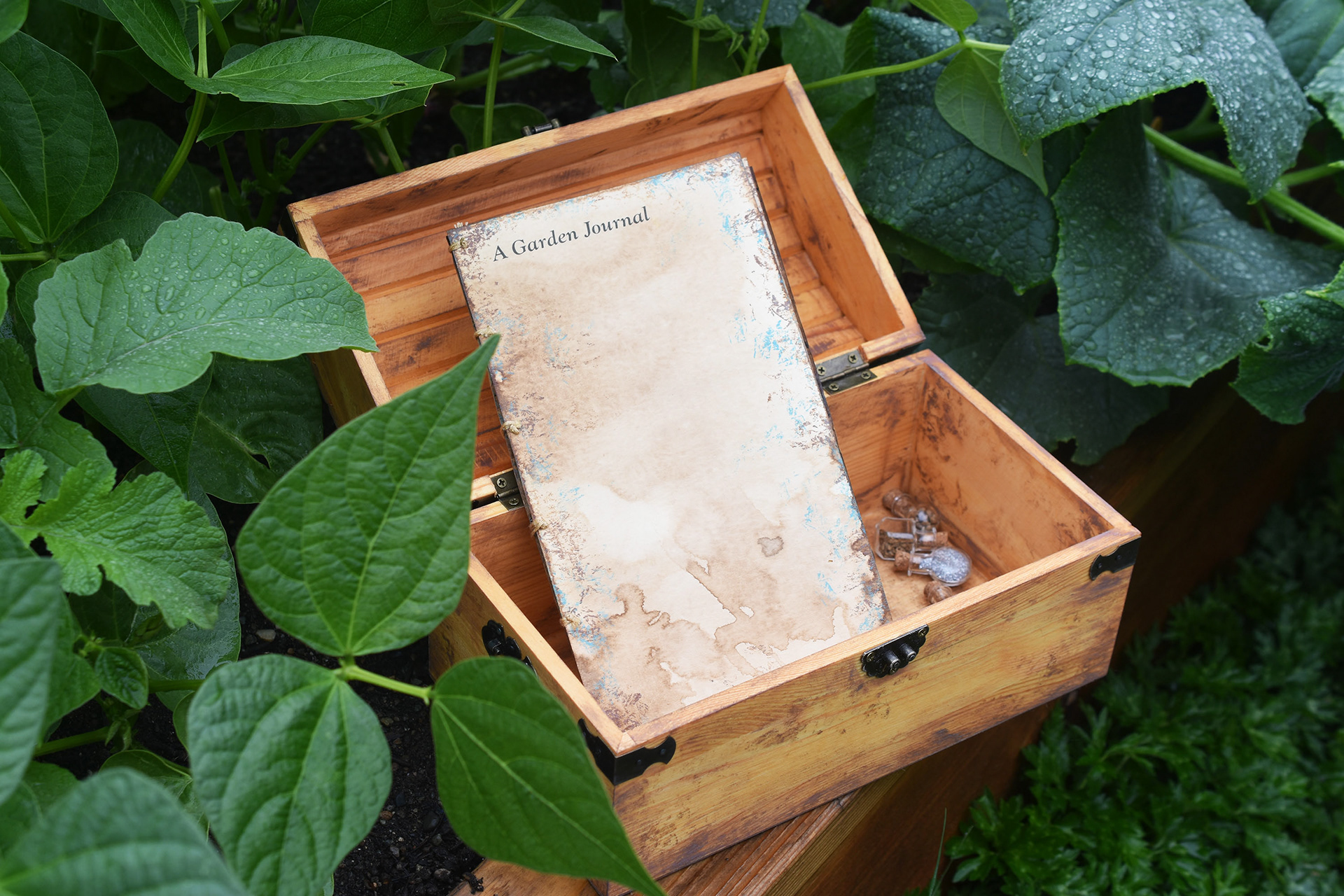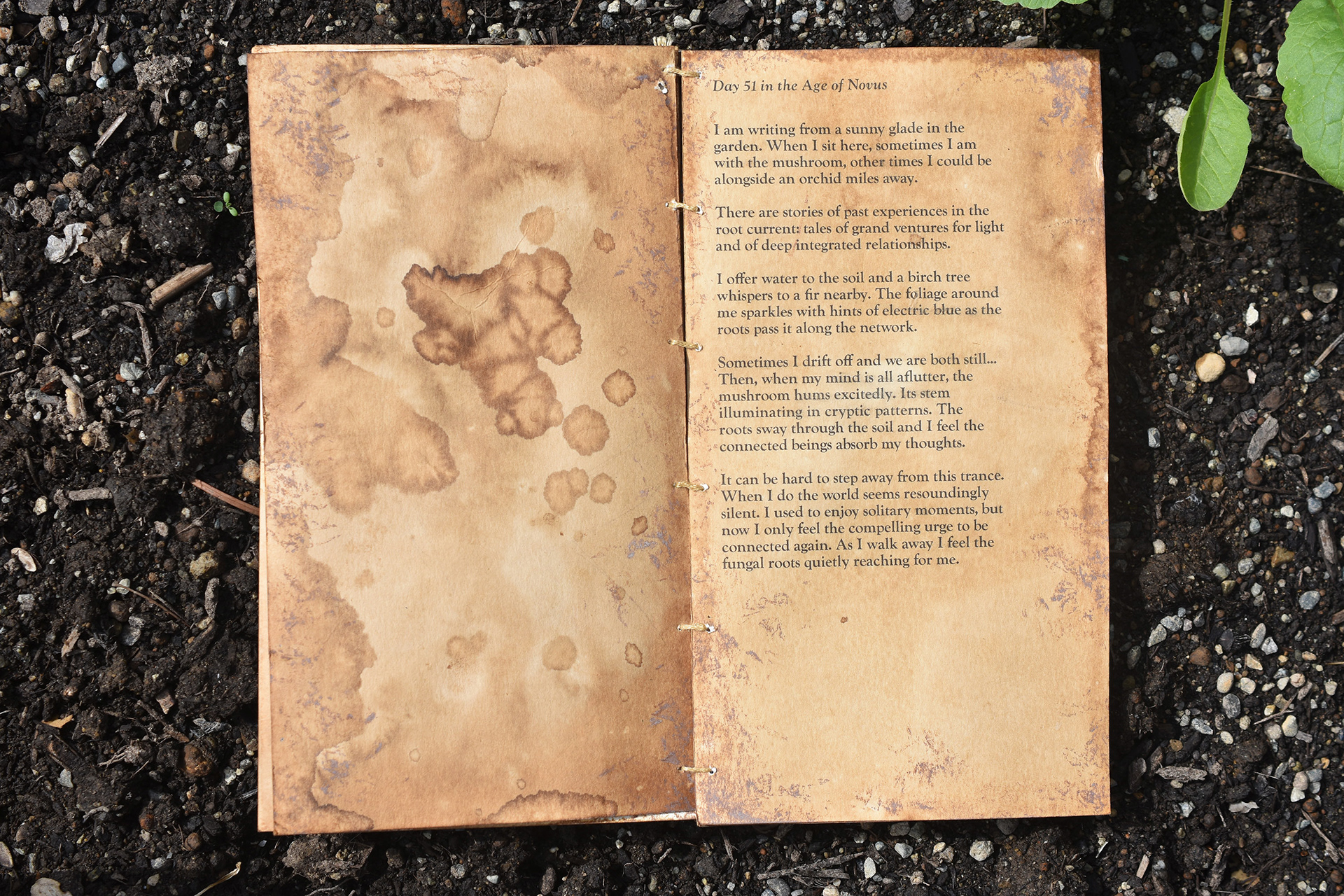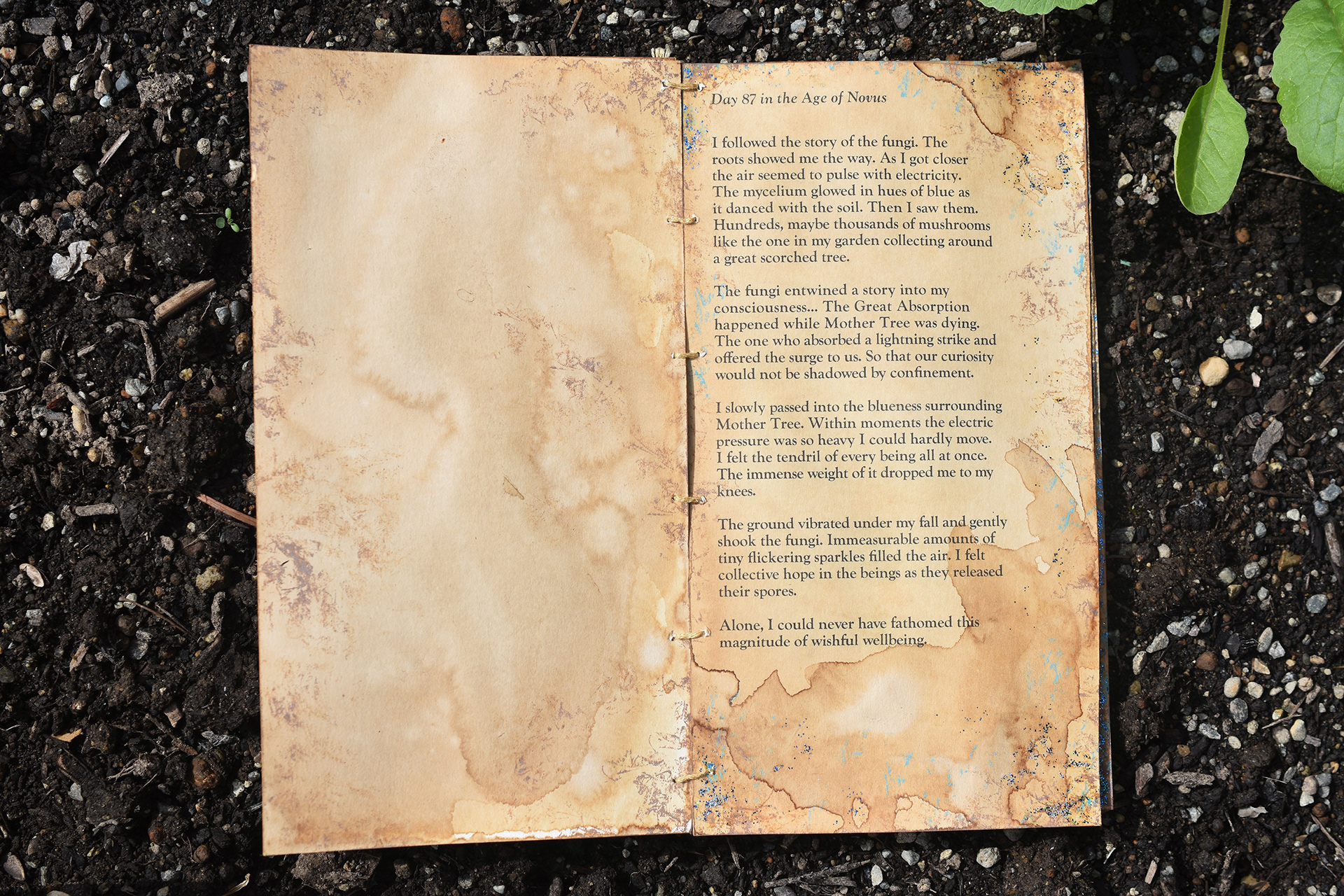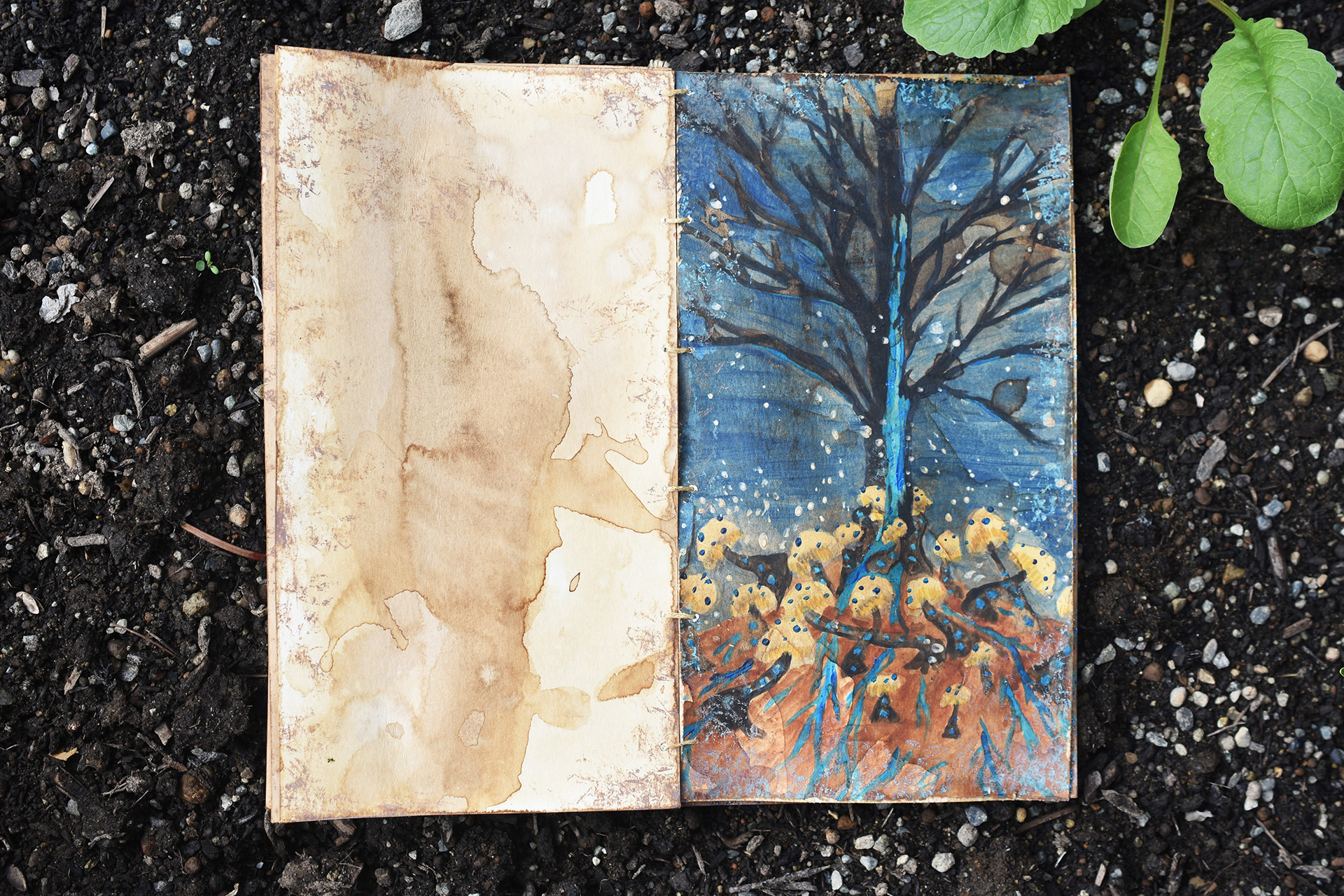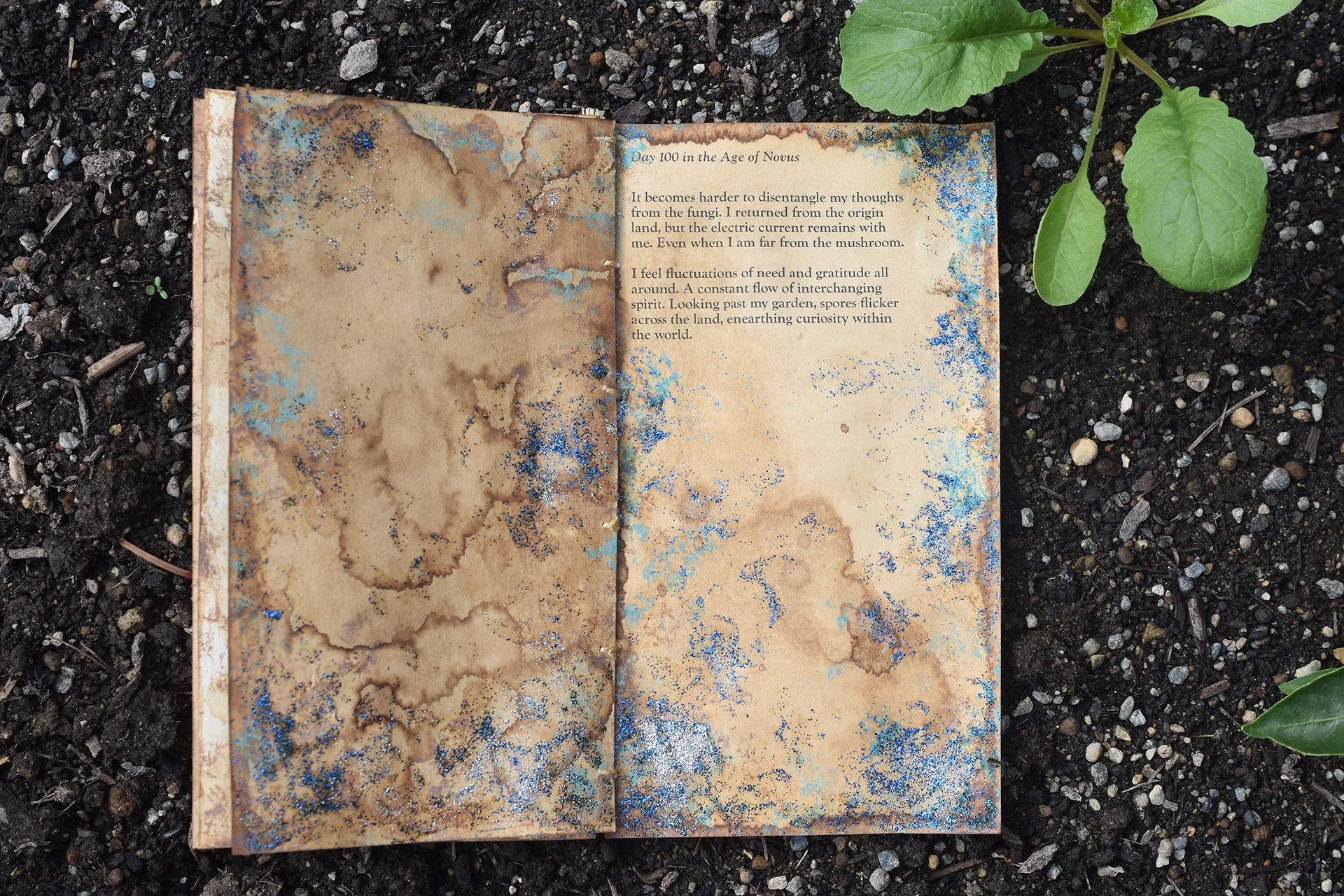 Nonhuman beings may not be readily noticeable, but their contributions to each other and our world are vast. They may be unseen, unheard, or unmoving to the human eye, but they are creating and sustaining symbiotic relationships within a plurality of species. And yet, we don't often acknowledge these nonhumans when we think about collaborative problem solving, design and resilience within the world. 
Response through an Alternative World Artifact and Worldview:
In the Age of Novus, Mycorrhizal fungi have absorbed electricity, gifted to them by a Mother Tree. The hyper electric fungi-plant network is stretching with curiosity through the divisions between in-earth and on-earth. Mushrooms offer themselves as a cognitive portal for humans to experience what it is like think fungally; to live within a collective consciousness that is propelled by the capacity for beings to respond to one another in a mutually beneficial way.  
I designed the interaction with the mushroom to encourage humans to not only notice, but to also care about cultivating relationships with nonhumans and to express curiosity for other beings' life-worlds. Vibrations in the mushroom's cap signify the transferring of energy and spirit with another being. The collaboration is a mutual effort among many beings to better understand each other and the world around them. Essentially opening up to one another.
I express this worldview through a series of journal entries with illustrations. They are written from a gardener's perspective who has recently discovered a mysterious mushroom. In this story, the electric, cyborg fungi intensify the need for interconnected and diversified networks of beings. Similar to our world, there is an unresolved tension in balancing individualism and togetherness within collaborative settings. However, this alternative world lens opens a passageway into the possibilities for shifting our nature of thought to include the perspectives of nonhuman entities. 
Showcase at Artefact Studio in Seattle:
Presenting at Artefact was an incredibly heartening experience. I loved sharing the magic of my cyborg fungi world and watching people's faces light up with intrigue. I asked people to think about what response they'd like to put forth into the connected network of beings. They were delighted when they touched the cap, felt the vibration, and watched the lights flash in different colors, as if their message was being heard and responded to.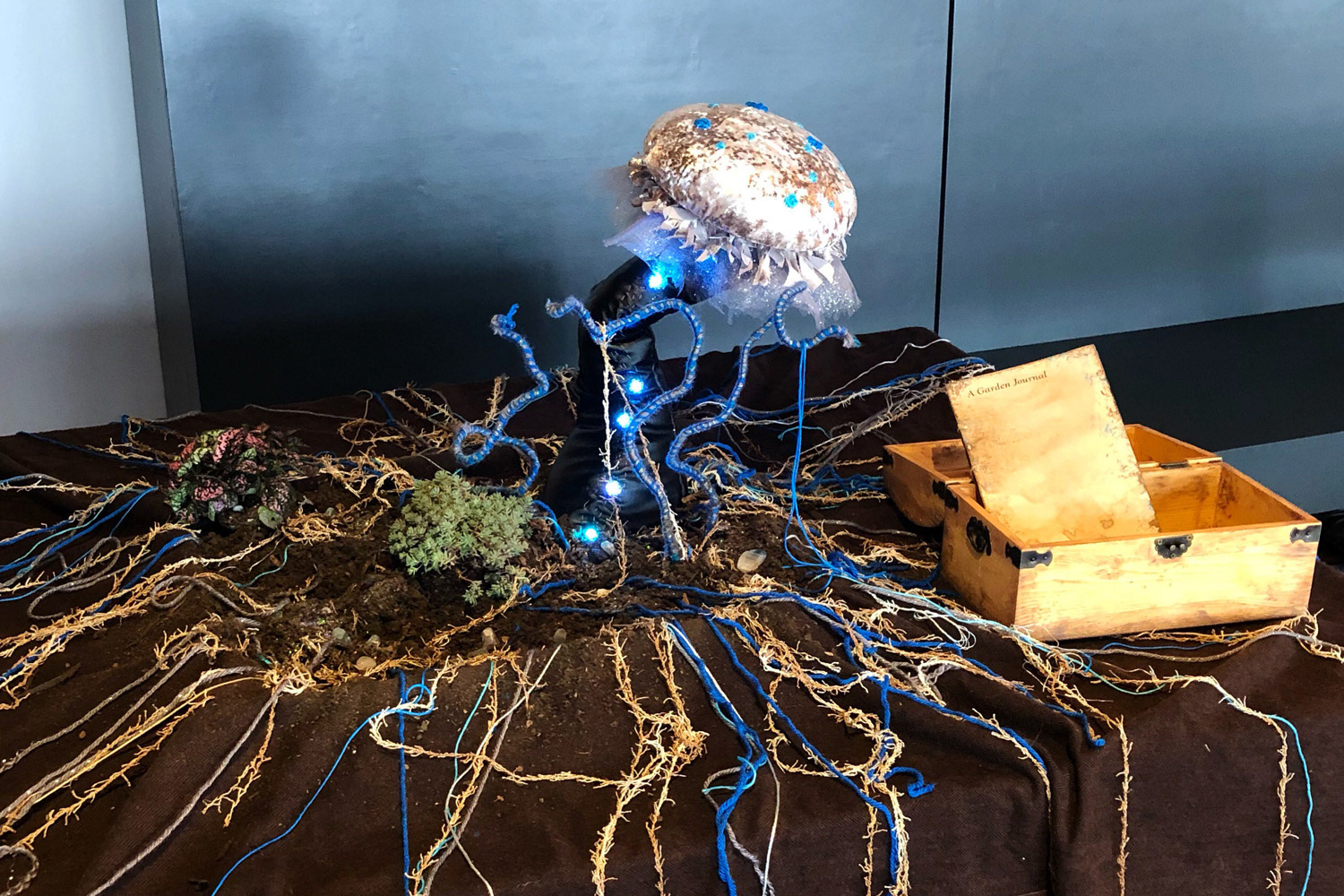 I began by examining my own life-world and the uniqueness I could offer an alternative world. I considered my personal journey as a designer and a maker. A common aspect I found throughout my process was collaboration. In the design field, co-design methods support creative discovery among designers and participants. Similarly, the maker community thrives with the help of collaborative events such as craft fairs and workshops. I realized that collaboration is an overlapping anchor point in many aspects of my life. However, it can be hard for me, and probably many others, to open up and let others in. But when we do, beautiful things happen. I decided to explore the benefits and tensions embedded within a collaborative process. I included nonhumans because I have a passion for those that go unnoticed. 
In imagining an alternative world, I emphasized this anchor point by asking "How might humans and nonhumans collaborate together?" This led to a subset of questions such as "How might we communicate reciprocally with nonhumans?" And ultimately focused on "How might humans and nonhumans engage with the inherent wisdom and curiosity of one another?" My research began with considering our positionality in the world in relation to nonhumans. I studied posthumanism theory and Bruno Latour's views on nonhuman agency and intellectual culture. I found that in order to include other entities in our collaborative processes, our nature of thought must change and shift past anthropocentrism. These findings led me to consider more in depth how we interact with all beings. In
Reflections on the Plantationocene
, Donna Haraway states that:
Building from these insights, I studied nonhumans that embrace collaborative relationships as their foundation for living and ongoingness. Mycorrhizal fungi-plant communities utilize their unique abilities within their world to gather nutrients and organic molecules for one another. Suzanne Simard's work on the kinship and communication among forest systems helped me create the framework for how to intensify communication among humans and nonhumans. And a quote from Colin Tudge inspired the orientation of my alternative world artifact: 
Throughout this project, the process was intermingled with making, researching theory, writing, and peer critique. I kept my process journal close and documented my journey. This proved to be an invaluable reference point.
One of the main struggles I encountered was creating an experience that was not human centered, but all being centered. I wanted to represent nonhumans in a respectful way without anthropomorphizing them. I contemplated how to avoid assuming and humanizing their motives and behaviors. I concluded that all beings try to understand their world and those they share it with. This led to the collaboration as a sharing of spirit and energy from individual life-worlds to a connected system of beings.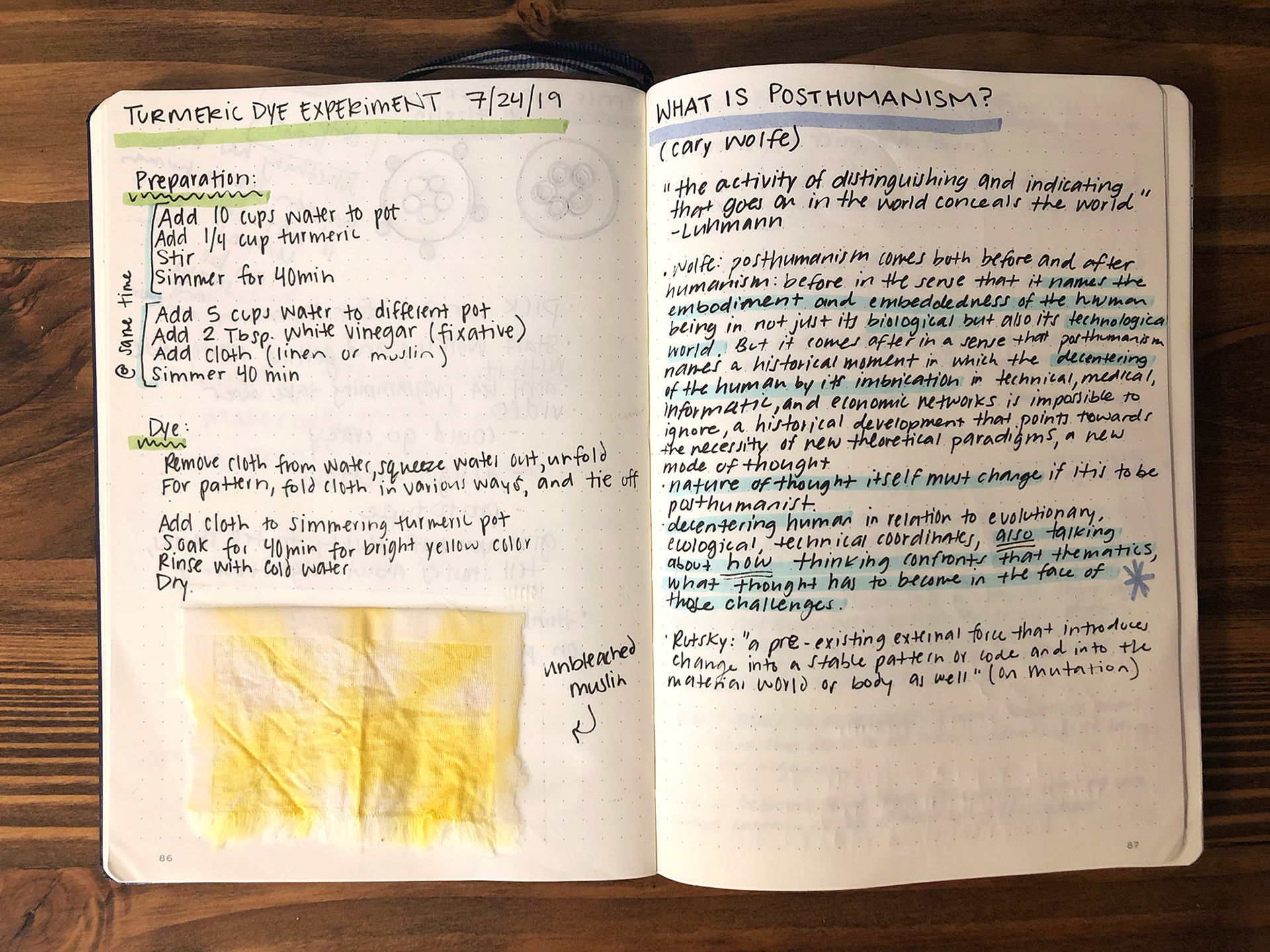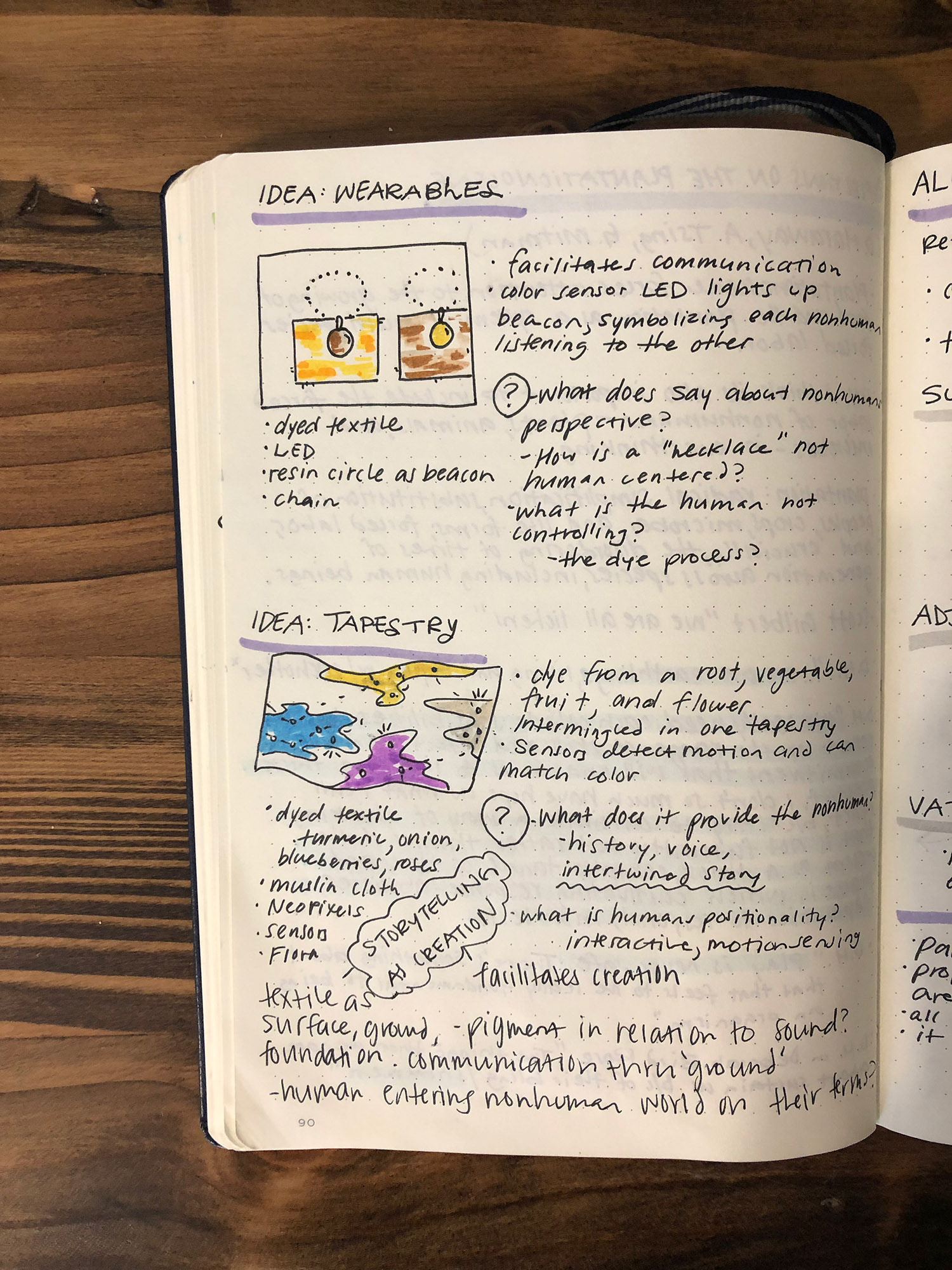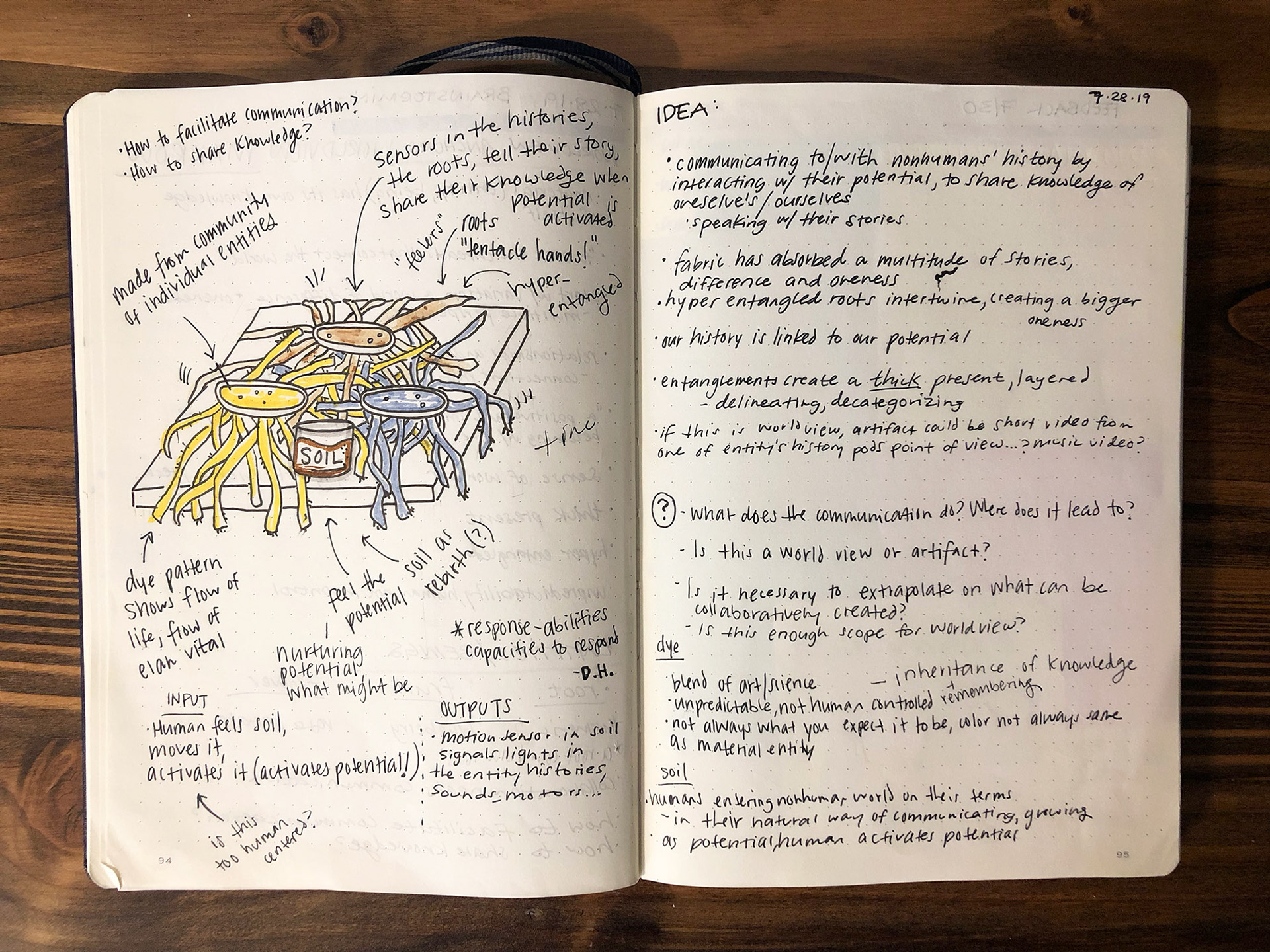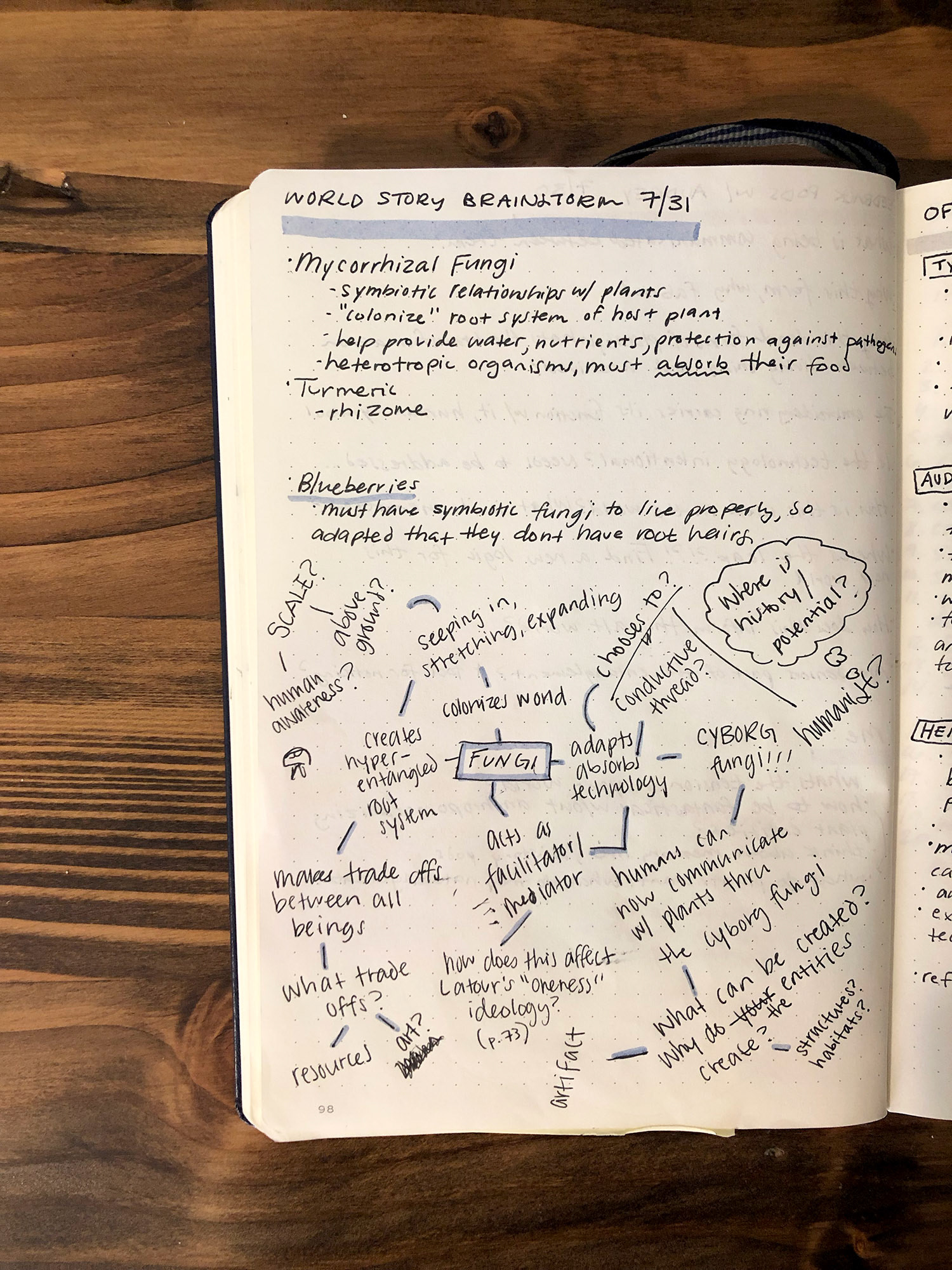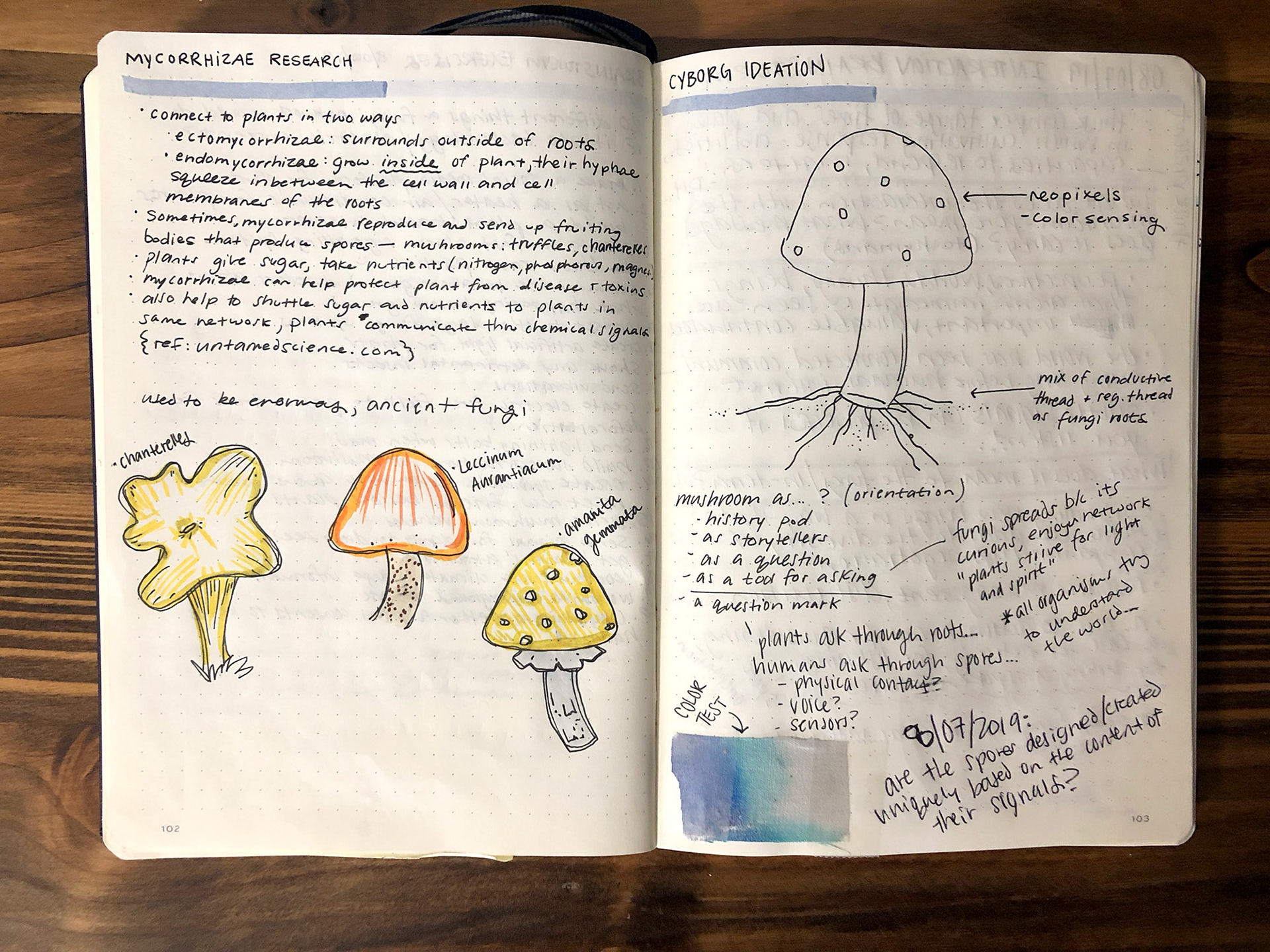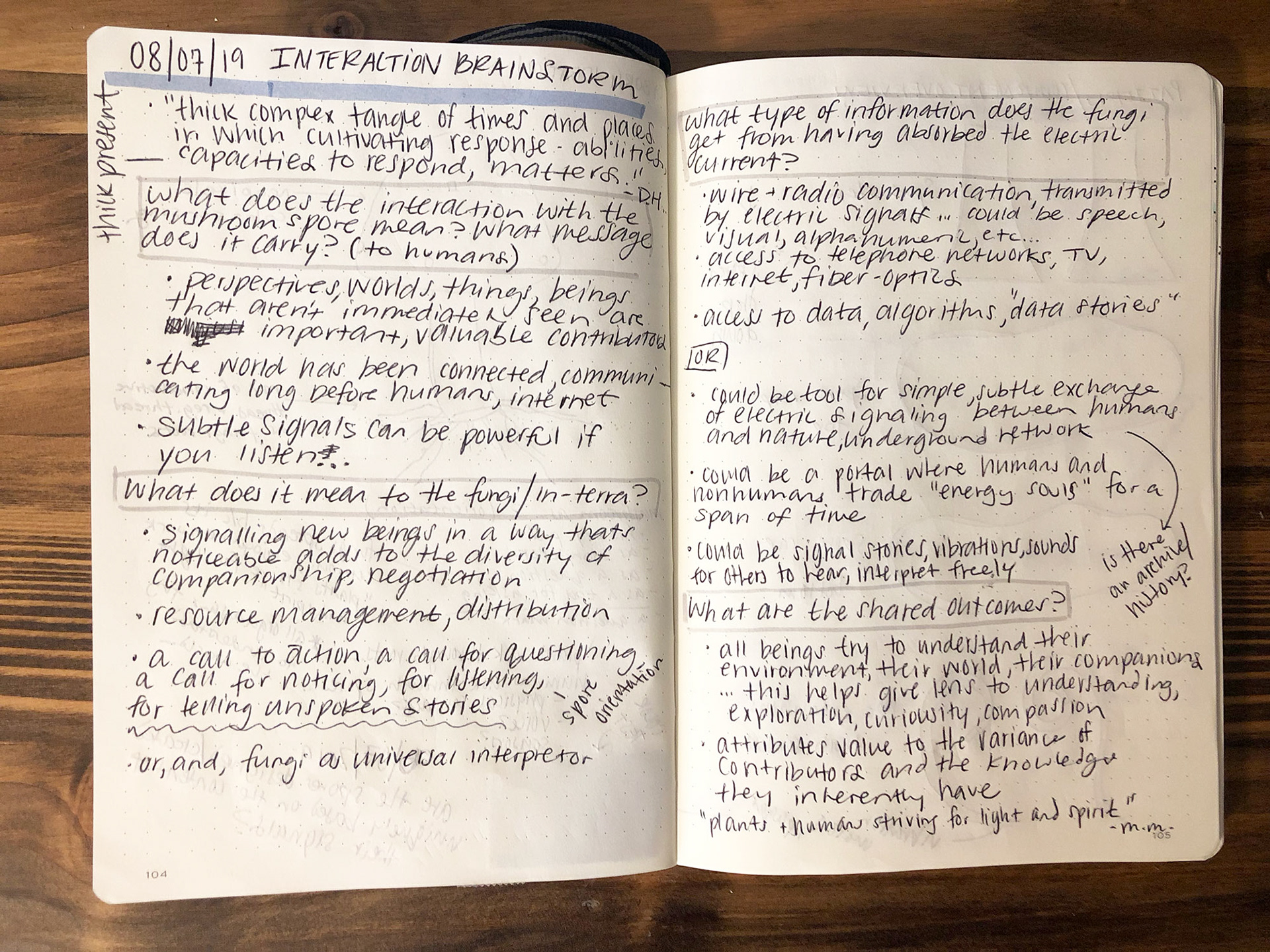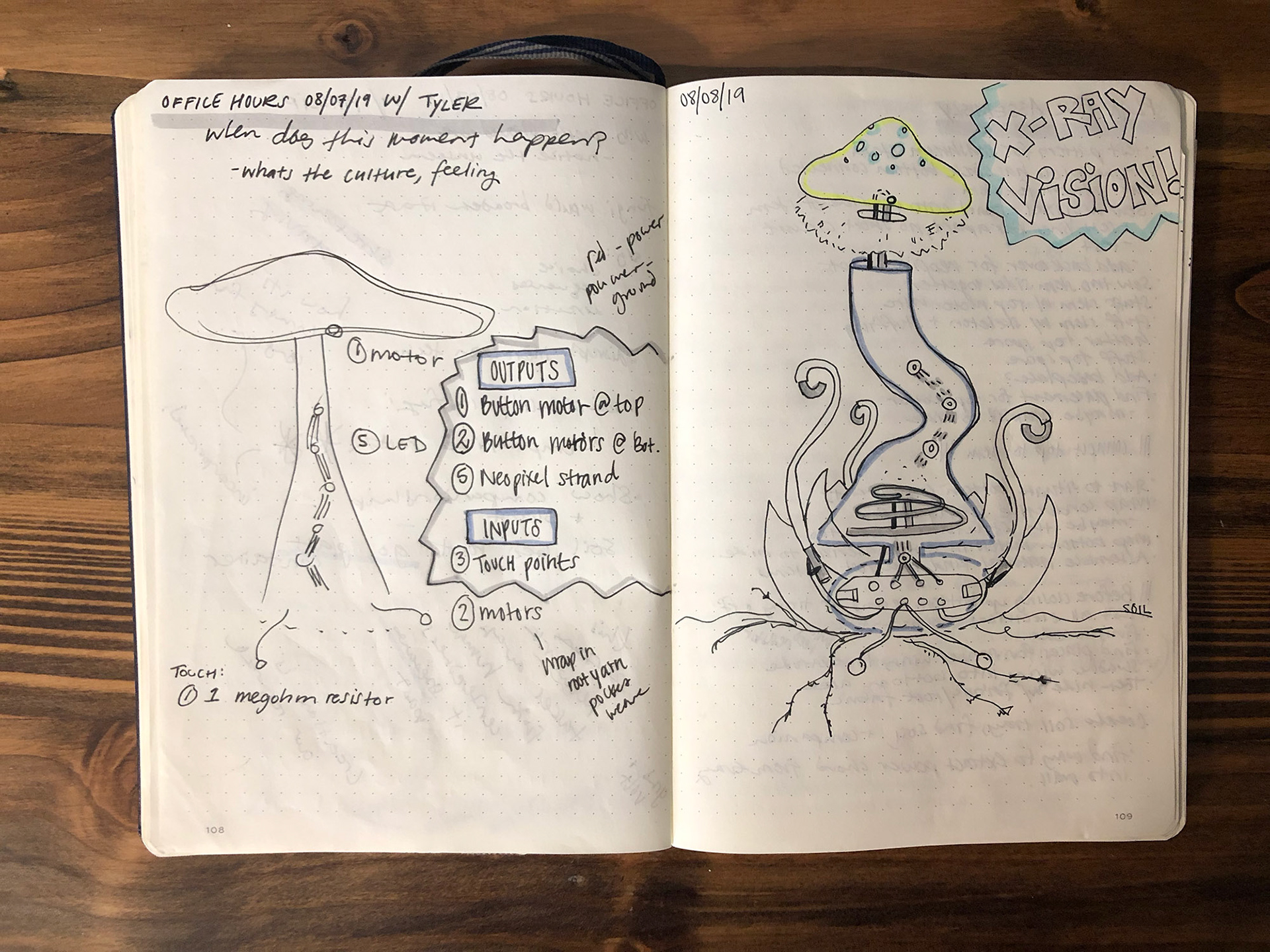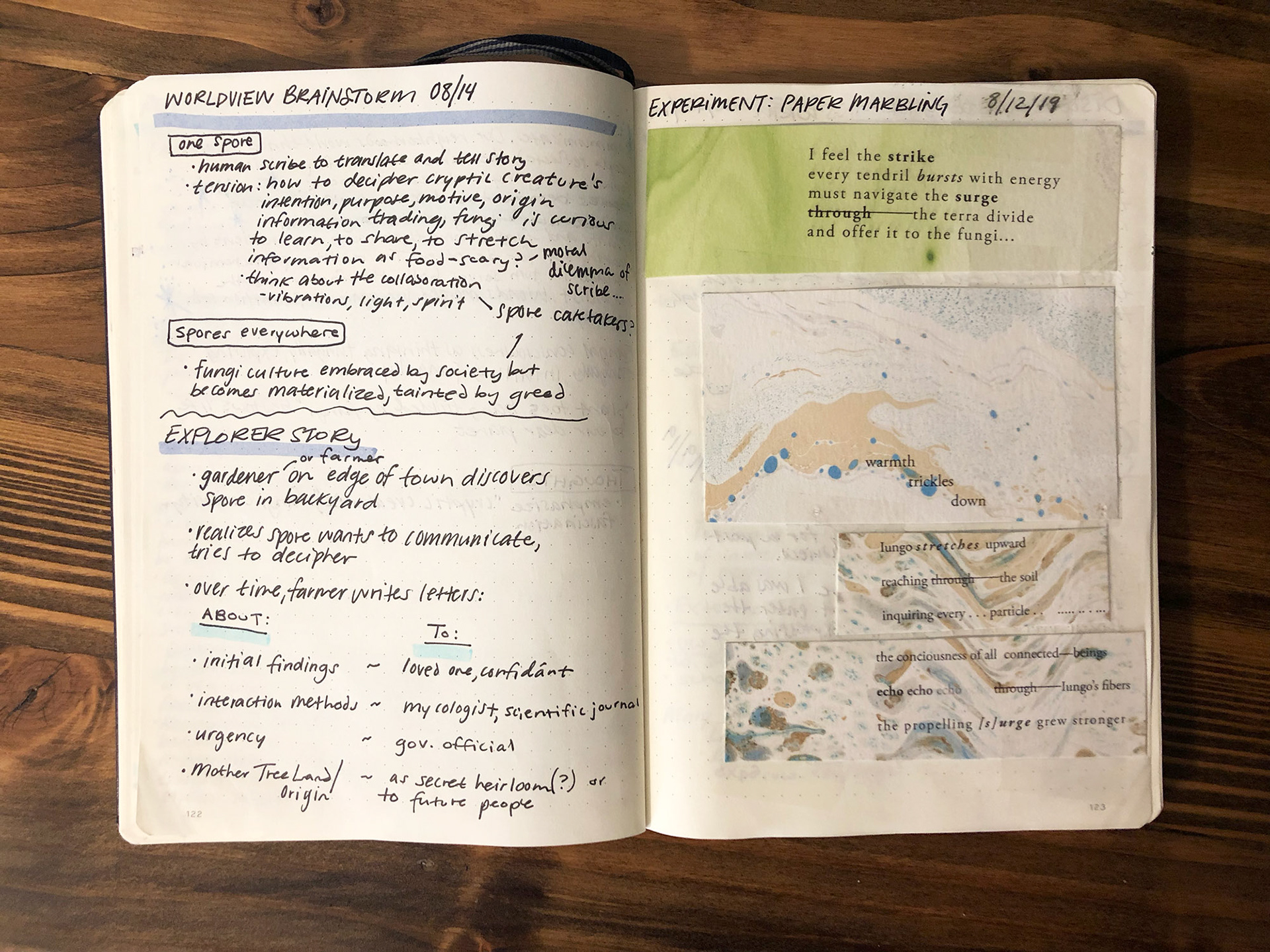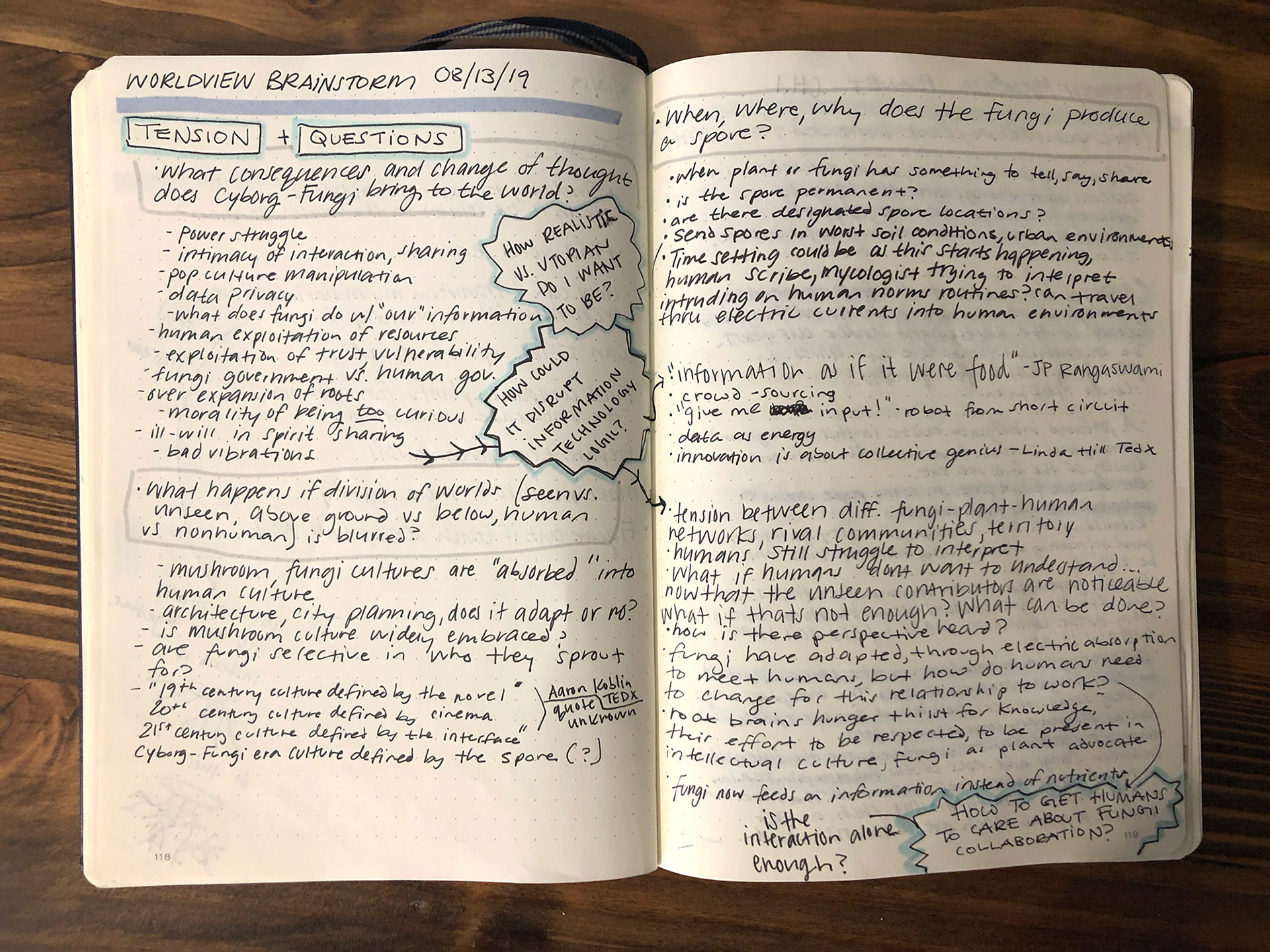 The making process included hand sewing conductive material, basic Arduino programming: light show loop, fabric and paper dyeing, painting, and creative writing.